The much-awaited physical regional World Tour event for Sydney was canceled because of coronavirus fears and the Salesforce World Tour Sydney 2020 replaced it with a "reimagined" version that was streamed completely online.
Here are the highlights from the Salesforce World Tour Sydney Reimagined event:
The Opening Keynote was reimagined
During the Opening Keynote, everyone was welcomed by Yvonne Weldon, Chairperson of the Metropolitan Aboriginal Land Council, to the land of the Gadigal people of the Eora Nation. Yvonne reminded the Salesforce World Tour Sydney Reimagined event attendees that we are one and can build trust by staying together and making a difference.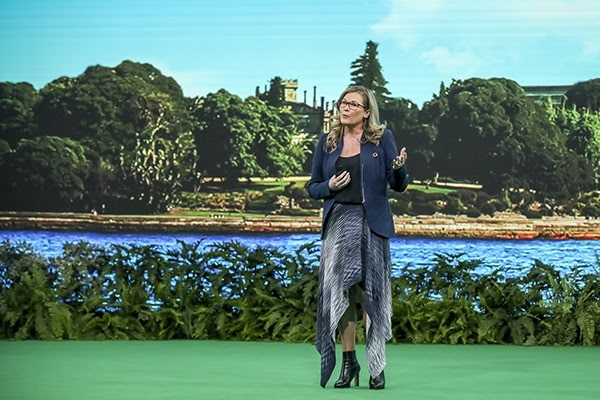 Pip Marlow, the CEO Salesforce ANZ, in her very first opening keynote made it clear we are stronger together. Pip remarked we're a leader in innovation, philanthropy and culture – and we're doing it together because what needs to be done is more than one company can do alone. She reminded everyone that we need to be guided by our values: trust, customer success, innovation, and equality to create this community.
While closing the 2020 keynote, EVP and Head of Strategy and Planning APAC Dan Bognar said our challenge is not the data, it is generating insights from it and added the combination of Salesforce and Tableau means we can now provide analytics to anyone, anywhere based on any type of data.
 PepTalkHer Founder and CEO Meggie Palmer and CreativeCubes.Co Founder and CEO Tobi Skovron shared their amazing journey from multiple inboxes and spreadsheets to the Salesforce platform along with great advice for SMB owners.
Meggie remarked when you start a business everyone will have an opinion and want to share their advice with you and added what you really need to do is come back to your purpose.
Tiffani Bova, the Global Customer Growth and Innovation Evangelist at Salesforce, quoted "1000 customers means 1000 opportunities". The message? Tiffani explained this shows you that every customer you get is an opportunity for you to grow, to engage, and to learn. She added but most importantly to just wow them with the experience that you've been able to deliver. 
The Global Customer Growth and Innovation Evangelist at Salesforce added it is important not to think about your customers as this thing you have to capture each and every day. Tiffani said it is something you collect over time, that you need to nurture, and make sure that they're satisfied with not only what you're giving them today but what you plan on giving them tomorrow.
Customer Trailblazers shared incredible insights
The Salesforce World Tour Sydney Reimagined event was also a witness to how Salesforce Trailblazers are leveraging the Customer 360 platform when it comes to changing the landscape of their businesses and driving success.
Shae Marlow, Head of Consumer Platforms and Operations, shared insights into K-Bot's second iteration last year at World Tour Sydney. A year on, Shae remarked K-Bot now handles an incredible number of customer interactions, with 92% of Kayo customers self-serving and K-Bot answering a quarter of the remaining queries.
Businesses can be platforms for change
In one of the most highly anticipated panels, tennis royalty and social equality legend Billie Jean King, former Telstra CEO David Thodey AO, and CEO and Founder of OzHarvest Ronni Kahn AO spoke of the significance of doing good while doing well.
Billie Jean King shared how at the young age of 13 she knew a lifetime battle for equality was ahead of her. She remarked you can sit at the table sometimes and have a voice, and you can sit there other times and not have a voice. King added the bottom line is you have to be your authentic self. This authenticity, and authentic leadership in particular, was a major theme of the discussion between the four leaders.
Leaders don't choose followers, followers choose leaders
Billie Jean King told Pip Marlow in their Fireside Chat that everyone has a story to tell – and if they don't it's because you're not asking the right questions. She shared the journey of her life and remarked what makes life purposeful is when you can shine a light on others. Billie Jean King said she was lucky that people believed in her before she believed in herself and said disruptors should not only complain and everyone must instead come up with a solution and start driving change.
Today, the power has shifted from sellers to customers and the gap between the two is growing. In today's era of the Fifth Industrial Revolution, salespeople should be empowered with information and insights so they can take action and start closing that gap. 
Janet Cutler, General Manager – Salesforce Innovation at Modern Star, said her enterprise has been using technology to help its sales representatives transform into advisers. 
Cutler added we have a lot of reps who have been with us for 35 years and they have personal connections with their customers – but they have never had any insights into what that customer is doing as an account or a whole business. She added now they can see what marketing is doing, interactions with customer service and analytics – they have all that rich data at their fingertips on the road that they can quickly check on their phone before they meet the customer.
How to overcome imposter syndrome?
A session was delivered by Founder of PepTalkHer, speaker and journalist Meggie Palmer, wherein Meggie admitted she still sometimes suffers from imposter syndrome.
Meggie suggested three steps to help overcome imposter syndrome:
Acknowledge and own it:

Meggie remarked we should think about the moments in your business where you don't feel comfortable and note them down.

Brain gym:

Meggie suggested gratitude practice is an excellent way out. She said it sounded a bit 'woo-woo' to me at first too, but every morning before she jumps on her phone she writes down three things that she is grateful for.

Track your success:

The Founder of PepTalkHer commented it is important to share your feedback from clients with your team and watch the ripple effect it has. 
In the inaugural Salesforce World Tour Dance Battle, Astro and Codey went toe to tapping toe and Astro's twerking took out the top gong this time.
Community members joined in
The Salesforce World Tour Sydney community was grateful for everyone who tuned in, attended a viewing party, joined a 1:1 session, tagged Salesforce in their social updates, and made the Salesforce World Tour Sydney Reimagined event a big success.
The best thing about Salesforce Sydney World Tour Reimagined? You can catch up on every single session on demand and the best thing is that there are more than 100 videos packed with innovation, enablement and insight to choose from. Watch now.