In today's ever-evolving digital age and a growing remote workforce population on the rise, it makes sense moving to the cloud. But what exactly is cloud computing? Simply put, Cloud Computing is computing based on the internet. In the past, people used to run programs or applications from a server in their building or software on a physical computer, using data that was also housed on that server or that computer. Conversely, cloud computing allows people to access the same forms of programs and applications via the internet.
The concept of cloud computing has been around for two decades but its popularity has grown exponentially over the last five years. In fact, many people didn't even realize they were using cloud technology in their everyday lives. For instance, you're using cloud computing when you're streaming Netflix. Our communications on Facebook and Instagram are also powered by cloud computing technology.
If you're running a small business, there are chances you're already relying on cloud computing for solving many challenges ahead of your business through cloud computing, whether you're using apps to manage workload or shooting emails on the go.
Let us now talk about the top 10 advantages of cloud computing for small businesses.
More flexibility with cloud computing
Cloud computing is your answer to your growing bandwidth demands and requirements. It is easy to scale up your cloud capacity effortlessly with cloud-based services by drawing on the remote servers of the service. Likewise if you want to scale down.
This level of unmatched flexibility can provide a real and distinctive advantage to enterprises using cloud computing by enhancing their operational efficiency.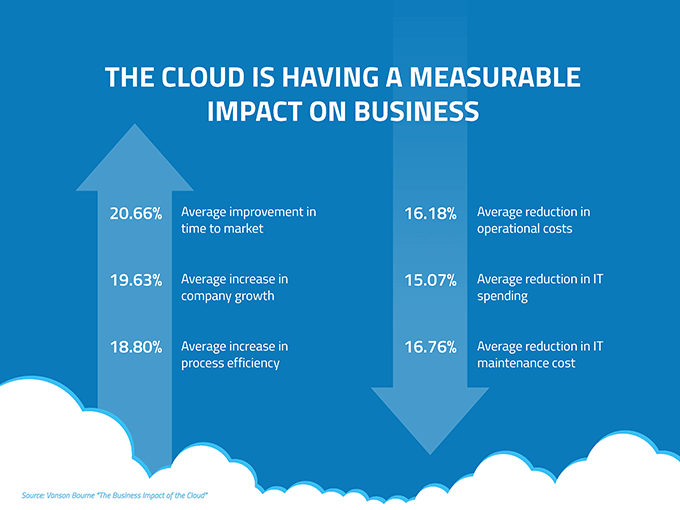 Loss of data can be devastating for a small business and it is not only due to the loss of important files – there is also the money, efforts, and time spent to recover them. According to CloudRadar, over half of businesses require more than an hour for recovering a crashed application that costs over US$10,000 for every hour of downtime.
For a majority of small businesses, investing in robust data recovery is more of an ideal situation than a reality. However, cloud computing has revolutionized the concept of robust data recovery for small and medium-sized businesses. Cloud-based services can offer quick data recovery for all forms of data disasters due to their scale and expertise.
Software updates a thing of the past with cloud computing
One of the biggest advantages of cloud computing is that the servers are off-premise that means a third party governs and manages system updates on a regular basis.
It is worthwhile to note here that adopting the cloud can minimize IT maintenance costs by 16.79. This means your IT team can divert budget to things that matter the most, such as designing and developing market-differentiating solutions.
Cashflow made easier for small businesses
Thanks to the surge in subscription-based business model, small businesses no longer have to invest capital for IT storage hardware. Business retailers and enterprises can simply pay as they go. On top of that, the ease of setup and management and suddenly intimidating IT project looks a lot friendlier.
Employees can work from anywhere
The biggest advantage of cloud computing is the unique ability to perform activities even while remaining on the move. In other words, you are never restricted by which device you have got on hand as a big majority of serious cloud services are offered through mobile apps. With more than 3.5 million smartphones users in the world, you don't want to leave anyone out.
Small and medium-sized businesses can provide more flexible working perks to their employees thanks to cloud computing that allows the human resources to enjoy the work-life balance without the level of productivity taking a hit. All in all, it all comes down to happy employees and happy bottomline.
Facilitates team collaboration
Teams can do more together and do things better when they can access, edit, and share documents at any time and from anywhere. Cloud-based file sharing and workflow apps help teams make real-time updates and gain full visibility of their collaborations. The best thing is that some cloud-based services can even be leveraged to gain collaborative social spaces so that employees can connect, especially if they work remotely.
No worries about document version control
Version control on documents can be a huge issue with a collaborative style of working. There cannot be anything more frustrating than opening a critical document and coming to the realization that someone who also has the access has saved the wrong version.
The scope for complication arises as even the smallest enterprises become more spread out geographically. All files are stored in a central location when you make the move to cloud computing; everyone has one source of truth that ultimately leads to a healthier bottomline and better work.
Enterprise-level data governance and IT security
Ever since the introduction of the General Data Protection Regulation (GDPR), IT security and data privacy have become bigger conversations. Today, small businesses are required to match their bigger counterparts when it comes to securing and respecting customer privacy and data.
Surprisingly, most enterprises across the globe don't like to think about security breaches before they become a victim of it, especially with 62% of all data breaches caused by malicious or criminal attacks. 
A greater sense of security and governance is offered by cloud computing to enterprises over the data of their customers. Cloud-based service providers are entrusted with the task of monitoring security 24/7/365 – something a small business could not have otherwise practically achieved without the support of a third party. 
Small and medium-sized businesses can effortlessly collect, govern, and protect customer data with products like the latest iteration of the Salesforce Customer 360 platform.
Cloud computing is the competitive edge your business needs

There is no better way for a success-driven enterprise to disrupt the market while remaining lean and nimble than to create new experiences through new technologies. And what small businesses don't want to have a competitive advantage?
Cloud computing is amazing for sustainability
Cloud computing is good for the environment too. The capacity of your server scales up and down to fit when your cloud requirements fluctuate. This means that you only use the energy you require and don't leave oversized carbon footprints. 
Want to give your small business a competitive edge? Call us now at +1(415)830-3899 or drop an email to info@cloudanalogy.com.