In today's cutthroat business environment, sales teams across the world make use of innovative sales force automation tools to eliminate a wide range of repetitive tasks. These tools prove useful not only to become more productive but also to improve the ability of sales teams to close deals. In this blog, we will be exploring what is sales force automation and how it can benefit sales teams.
All About Sales Force Automation
Sales force automation (SFA) can be defined as a comprehensive process wherein elements of the sales process are automated by software tools. Primarily, the automation aspect emphasizes repetitive administrative tasks that are generally time-consuming for sales teams to perform.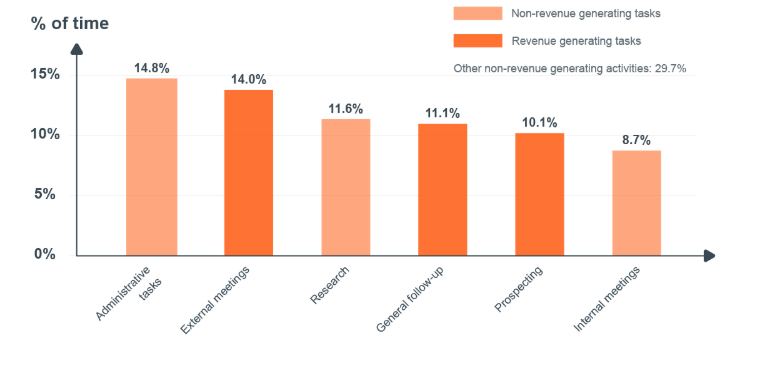 According to industry reports, two-third of a sales rep's time on an average is spent on non-revenue administrative tasks. The use of a sales force automation software can help sales reps spend a big majority of their time on more productive parts of their job: selling.
Usually, the sales force automation software will automate tasks based on specific inputs. For instance, follow-up emails can be sent to leads if they are not responding to initial emails after a specific number of days.
Alternatively, the sales force automation software can be set up so that actions initiated by members of the sales team lead to different tasks being completed. An instance of this is tasks getting automatically assigned to team members whenever a prospect is moved in the sales team pipeline by a manager. This software can also include reporting and analytics tools that make it easier for sales managers to view metrics like the predicted revenue or performance sales team members over a specific time period.
Purposes Of Sales Force Automation
In the selling process, sales force automation tools are meant to guide and assist sales team. Ultimately, the primary purpose of SFA automation is to let organizations sell more of their products.
This is primarily performed in three main ways:
Shifting focus on critical tasks: Sales force automation tools allow reps to spend more time on the important activities that are more likely to result in sales. This is done by freeing up sales team members from repetitive administrative tasks. For instance, working on strategies, setting up meetings, or calling prospects.
Gathering invaluable insights: The reporting and analysis tools that are a part of most sales force automation software allow the managers of sales team to see what is performing well and making adjustments to things that are not working. It can then contribute to a far more effective sales strategy.
Streamlining the sales process: One of the biggest advantages of sales force automation is its unique ability to make the otherwise-complicated sales processes more simplified and efficient that can lead to sales. Sales reps may forget to send follow-up emails. However, sales force automation can completely eliminate this problem when set up correctly.
It is worthwhile to note here that sales force automation software is not MEANT or INTENDED to replace the sales department. Instead, SFA is an essential tool that complements the efforts of sales teams and helps them implement effective and smart strategies.
Components of Sales Force Automation
Different tasks are performed by different sales force automation tools. Some tools can let users set up their own custom inputs and outputs to streamline the tasks which are required to be automated.
Let us now talk about some important components of sales force automation software.
Automate the sales process: Organizations can keep the sales process at a quick pace by automating a big chunk of the sales process. For instance, an organization could seamlessly set up an automation whereby a new email is sent to prospects after a gap of 2-3 days if no response is received from them.
Conversely, the contents may be added automatically to a customer relationship management (CRM) when the emails are opened and an online form gets filled out. After this, the sales rep can get notifications that they are required to reach out to the prospects.
Activity tracking and alerts: Activity tracking lets sales teams effortlessly track where they are with specific customers, ensuring that the next correct steps are taken to build sales.
If this is not all, some sales force automation software will alert the sales team members automatically of the next steps they need to take. All in all, SFA software allows sales reps to take the correct actions at the right time to ensure the best odds of sales success.
Manage the sales pipeline: The sales pipeline can be set up so that sales team members receive alerts whenever prospects move to the next stage of the pipeline to simplify the process. In addition to this, it is always ensured that everyone involved is fully aware of the next steps and the future course of actions as soon as they have to take them.
The importance of sales force automation is evident from the fact that it leads to significant improvements in the levels of sales closures, sales administration time, and sales cycle timing. All these and many more advantages of sales force automation in your CRM software undoubtedly help you stay at the top of your league.