Introduction
In today's world, DocuSign is used on a large scale. It allows you to send signed Salesforce agreements and approvals on any device. All your documents are digitized for your records, and it ensures that your documents are safe. 
DocuSign is the fast and easy way to sign your documents – anywhere & anytime. DocuSign eSignature is the digital signature for signing your documents at your convenience.
Many businesses perform Salesforce Integration with the help of Salesforce Integration Partners to enhance their business productivity.
In this blog, we will provide insights into how DocuSign works, the benefits and limitations of DocuSign, the features of DocuSign, and how to use & install DocuSign in Salesforce.
How does DocuSign work?
DocuSign is the fast and reliable way to electronically sign your documents and any paper agreement on any device and -anywhere in the world. You can have all your documents digitally signed whenever you want. DocuSign makes it very easy and convenient for us to get signatures.
First, Let's have a look at the Benefits, Limitations and Features of DocuSign –
Benefits
With the help of DocuSign eSignature you can sign your documents without notes & paper. 
It helps you to get back your document's signature digitally. 
It is very easy to create your Digital signature.
It empowers professionals to get work done faster.
Enable your customers to quickly and easily complete transactions from their smartphones.
Limitations
A digital signature will be highly dependent on the technology.
Users have to purchase Verification software.
To use digital signatures, you must purchase digital certificates, which can be expensive.
Recommends not to add files larger than 25 MB to an envelope.
Limits file size to 5 MB when you attach completed documents with emails sent through DocuSign. 
Features of DocuSign 
Compatible with any electronic document signing, including pdf, word, excel files, etc.
Verify remotely based on advanced face recognition technology.
Verify signer identity with multiple modes of custom identification, including Bank KYC and Aadhar Offline  KYC. 
How to Use & Install DocuSign in Salesforce?  
Prerequisites
You will need a Salesforce org.
Enable my document in that Salesforce org.
Steps to Install
Firstly you get to install DocuSign App Launcher in the Salesforce org. Go to setup and go to the home page
Go and search Appexchange in the Quick Find box.
Click open 
There are many templates, but you will search the box and search the DocuSign e-signature template.
Click select on DocuSign eSignature for Salesforce & click open 
Click on Get it now 
Click on the login screen & go to install for in this org &  Click on Install here.
Go to & select upgrade Docusign App Launcher & click on install for admin only then click on upgrade.
 Now you have to install the DocuSign App Launcher in your org.
Now you go to the App Launcher and search for a DocuSign App Launcher and click open.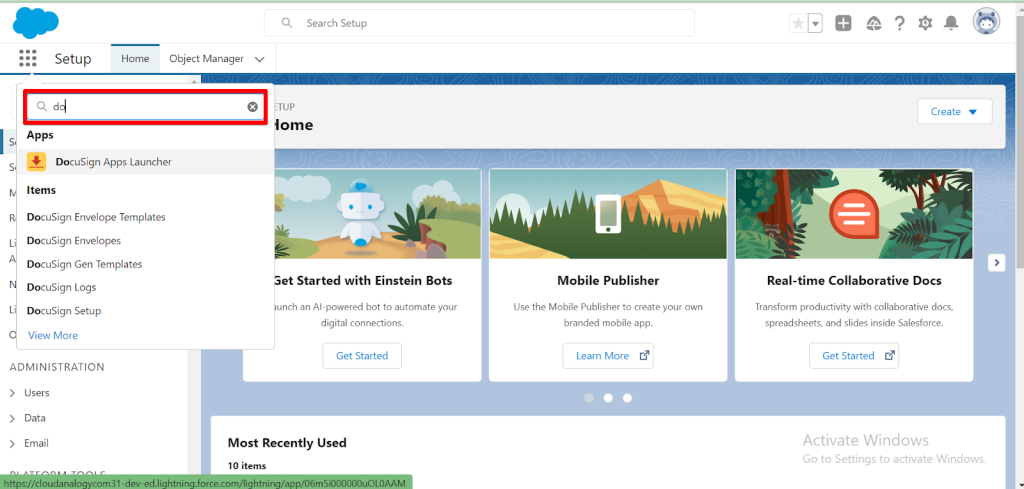 Go to DocuSign App Launcher and make an account on this app. And if you have an account, log in to DocuSign.
Go to the home page of the DocuSign app.
Go to the DocuSign envelope templates, click open, and click on create a new button.
Go for new & get name & Choose data source.
After getting the name & selecting the data source, click on the next button.
This step is for the documents section for your templates. Choose Documents and upload here for further process, and click the next button. 
 Here is the Recipients section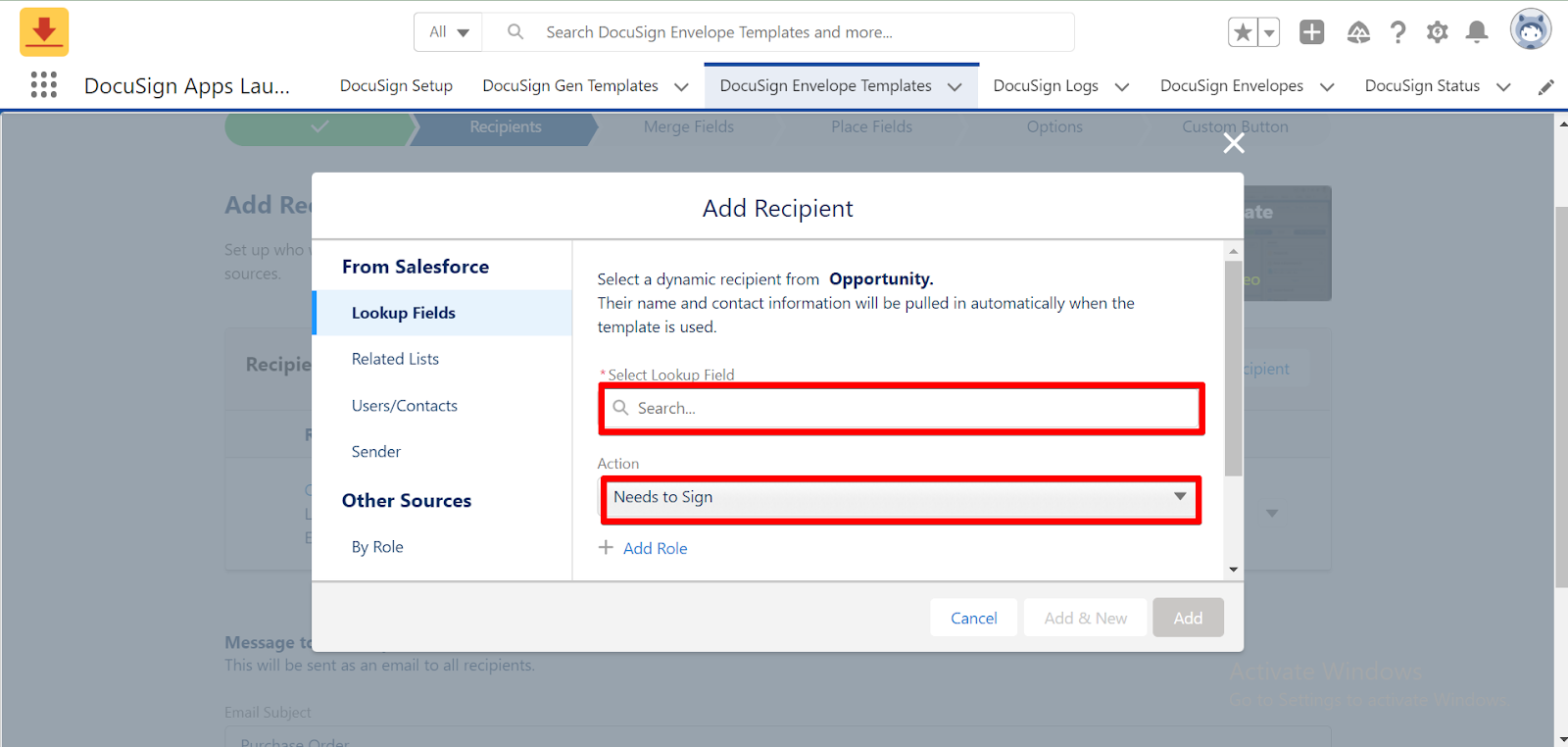 Add recipients, select lookup fields and action, and click on add.
Add the Email subject and Email Message given below for Message to all recipients, and then click on the next button.
 Here is the merge fields section. Click on the add fields button for merged fields and click on the next button for the next steps.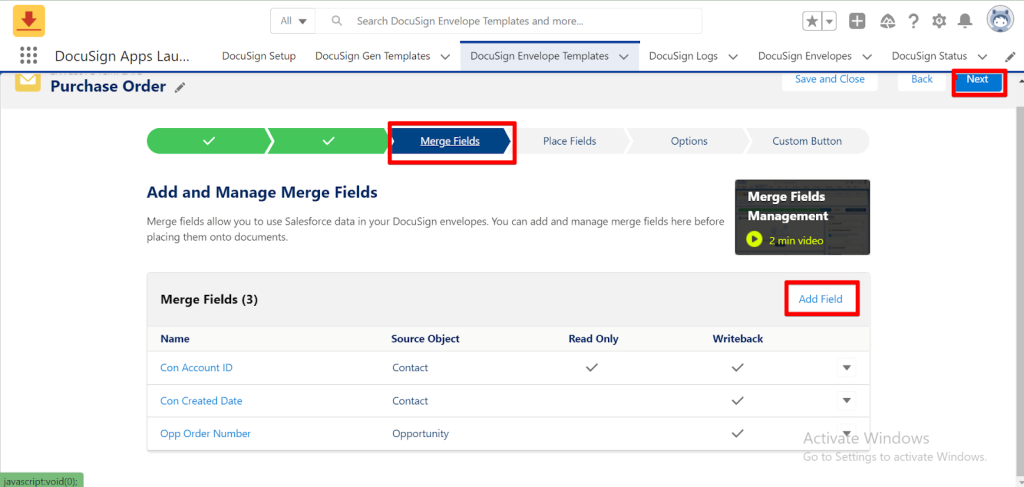 The next step is to place a field where you can manage the documents and add some standard fields, like- signature, date, name, etc. After selecting the standard fields, click on Save and Close button. 
Here is the next step for options: here, we can add automatic reminder days and expiration days, and you have to select sending experience by default and click the checkbox on documents writeback after, then click on the next button.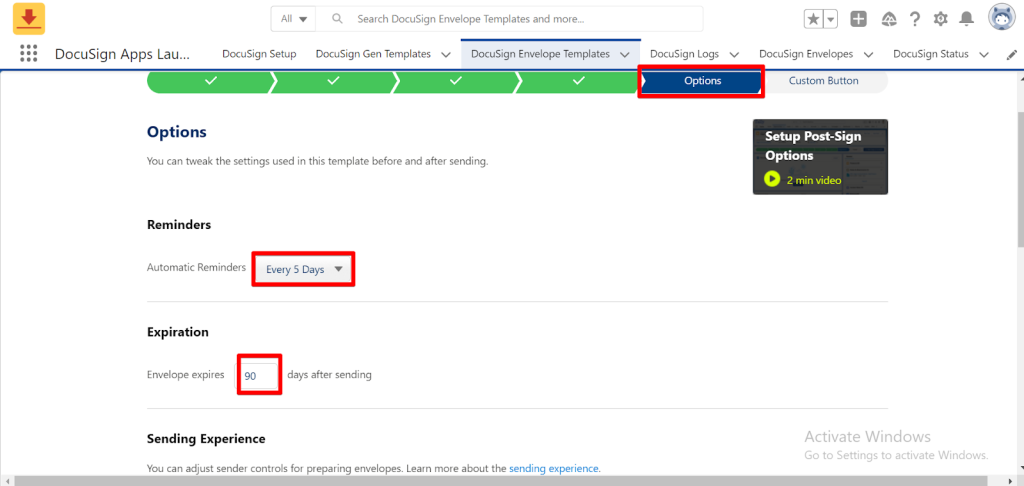 Here is the section of the custom button for templates. Create a custom button label and select all checkboxes for page layout.
After finishing the custom button click on Save and Finish buttons.
Here is the complete DocuSign Envelope Template.
Now we'll check for the document templates by Email.
Go to the Object Data Source that you have selected in the templates. Go to App Launcher, search for object opportunity, click open and make a new record for the opportunity.
 Make new records for the opportunity.
After making an opportunity record, here is the custom button for the purchase order. Click on it & check for the Email for DocuSign Template. 
Here is the process for sending with DocuSign. After finishing these steps, you will get an Email for DocuSign.
Click on Send button & you'll get an Email Check for Email.
Click and open  Email for DocuSign.
 Click on the Review Document. Here you will see your DocuSign.
Here is the required sign here. Click on the sign here.
Click and select Signature & Click on the saved button.
After that, you have finished with DocuSign.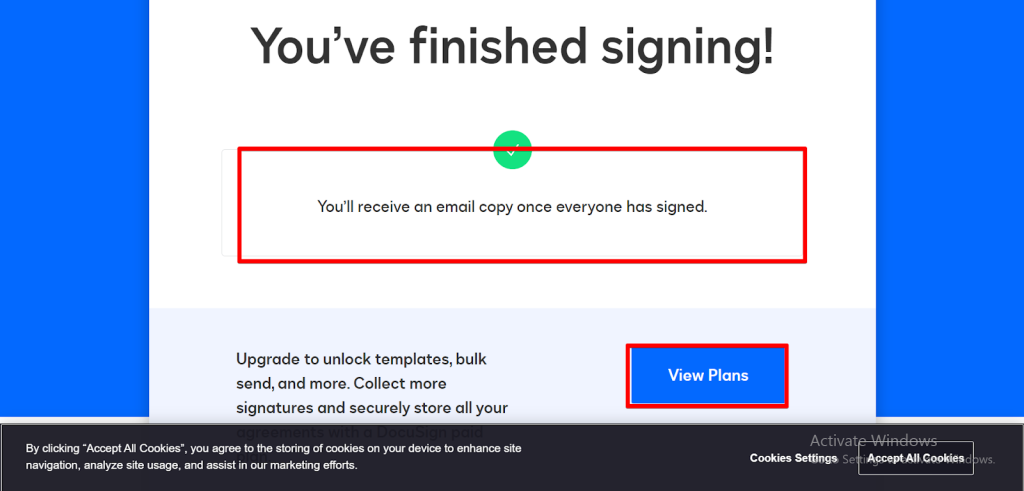 Conclusion
DocuSign is a user-friendly digital transaction management toolkit that makes it easy, secure, and efficient to exchange electronically signed documents in the Salesforce cloud, providing the best Salesforce Implementation services. It allows you to send signed Salesforce agreements and approvals on any device. It offers a fast and easy way to sign your documents – anywhere & anytime.
DocuSign integration allows you to automate this process in your CRM. Also, the integration helps reduce paperwork, enhance closing rates, and reduce business processes. 
We can conclude that Salesforce customers can simplify the approval process, streamline and digitize agreements, etc., with DocuSign's help.
If you want to perform integration of Salesforce with DocuSign and are facing difficulties in the same, our team will help you. Contact Cloud Analogy – the globally recognized Salesforce integration company that can be your one-stop Salesforce Integration Partner to help you with successful integration and improve your business's bottom line like never before. We help our clients to transform their businesses with Salesforce technology.