Introduction 
You must have encountered with HubSpot many times. So, What is HubSpot? How can we perform integration in HubSpot?
Well, we have the answer to all your questions.
In this blog, we will provide insights on what Hubspot does, what Hubspot CRM is, what Google Sheets is, what Google Sheets is used for, and steps for Integrating Google Sheets with Hubspot.
What is HubSpot?
A cloud-based CRM from HubSpot facilitates alignment between sales and marketing teams, boosts ROI, and streamlines your inbound marketing strategy to generate more qualified leads. It is a platform to help your organization market and sell more effectively.
Many businesses such as Cloud Analogy provide HubSpot CRM implementation solutions to help clients' businesses grow rapidly.
The key features of Hubspot are –
Free CRM
Landing Pages
List Segmentation
Email
Workflows
Paid Ad Tracking
Social Media Integration and Management
And, Dashboards
What is Google Sheets?
Now, if we talk about Google Sheets, with the help of this web-based application, users can make, edit, and share spreadsheets online in real-time. It helps to make data-driven decisions from any device.
A number of spreadsheet capabilities are available in the Google product, such as the ability to add, delete, and sort rows and columns. Google Sheets, however, includes an integrated instant messaging software that enables geographically dispersed users to work collaboratively on a spreadsheet at the same time.
Mobile devices and computers can be used to upload spreadsheets immediately. The application saves every update automatically, and users can see other users' modifications as they are made.
What does HubSpot Do?
HubSpot CRM Implementation helps businesses sell more effectively. They've created a single cloud-based platform where a company's digital marketing activities are kept to achieve this.
One platform, accessible from anywhere, combines everything from hosting your website to blogging, social media posting, email marketing, and more.
The marketers can use the HubSpot tools to help in lead nurturing of qualified leads till they are ready for passing over to the sales team. Then when a lead is prepared to convert, they are quickly forwarded to the sales team for a straightforward, seamless process that aids businesses in converting warm leads into satisfied clients.
Why do we Use Google Sheets?
Spreadsheet collaboration across various geographic areas is commonly done using Google Sheets. A Google Sheets document may be changed by multiple users concurrently, in real-time, with each user's changes being monitored.
What is Hubspot CRM?
The HubSpot CRM is where it all began. With the help of this customer relationship management software, businesses can arrange, automate, and monitor each internal interaction and activity.
To make the Account in Hubspot, we do the following:
First, search for Hubspot in any Search Engine.
Then click on the Start free or get a demo button.
Then click on the Get Started free button.
Now enter your First Name, Last Name, and Email Address.
Then Enter the Industry Accordingly.
Enter your Job Role for your profile
Enter the Company Name in which you are working.
Enter how many people work in the company.
Enter your company website.
Check the email for Verification.
The home page of Hubspot will be displayed like this:
Why Integrate Google Sheets and HubSpot?
The reasons for integrating Google Sheets and HubSpot are:
Add all contacts and related information from Google Sheets automatically into Hubspot CRM.
Make it easier to automate and customize HubSpot Reporting for your organization, populating Google Sheets with HubSpot data.
Ensure constant access to real-time HubSpot information in your dashboard. 
Data from HubSpot can be imported in real-time to monitor Sales and Revenue.
Export HubSpot deals and other required data to analyze and improve the sales team's productivity. 
Steps for Integrating Google Sheet with Hubspot 
Here is the Google Sheet, which will integrate into HubSpot:
Click on the Contacts button, then click on the Contacts field.
Select the Import Button
Click on Start an Import for importing data.
Select the File From Computer option for selecting the file and then click on the next button.
Then select One File or Multiple Files for uploading
Select One Object, or Multiple Objects, then click on the Next Button.
Now Select the object which you want to import 
Select the File which is to be uploaded from the device.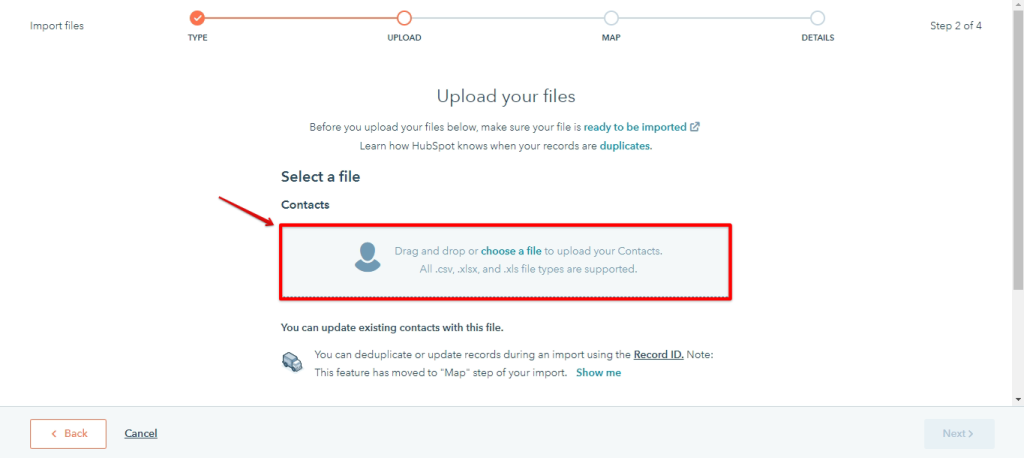 Now the file will be uploaded then click on next
Map the Columns in your File to Contact Properties and click on the Next Button.
Check the Imported File, then tick the check box regarding terms and conditions, and then click on Finish Import.
The summary will be displayed when the records are integrated successfully.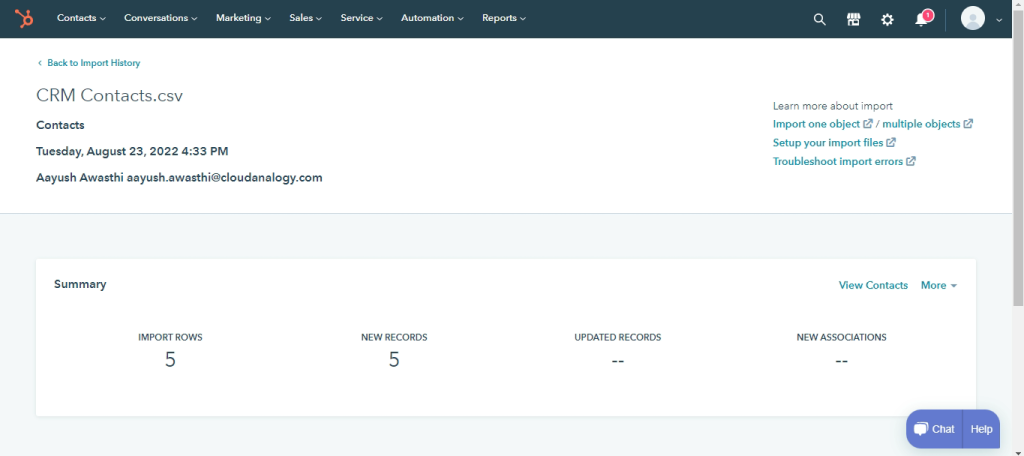 13. Contacts records are integrated successfully from Google Sheet to HubSpot.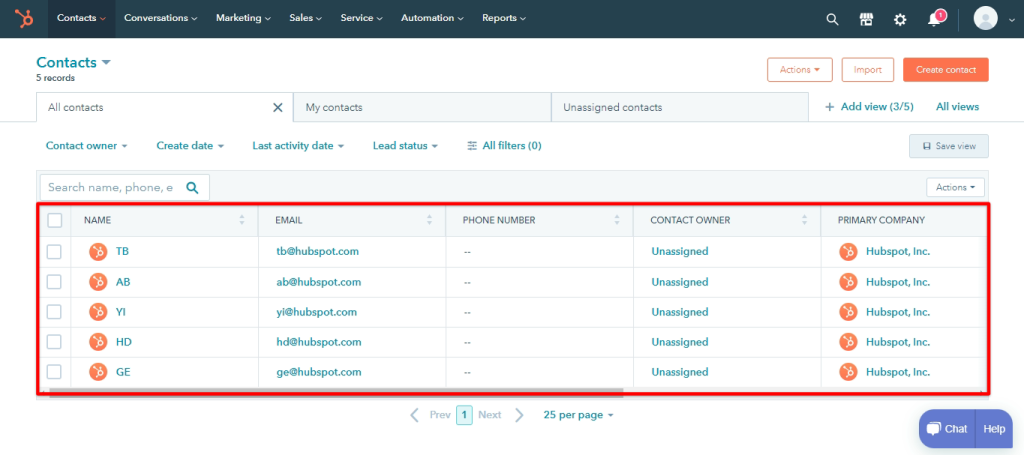 Conclusion
HubSpot is a platform with everything from website hosting to blogging, social network posting, email marketing, and more, and it is available from anywhere. Google Sheets, on the other hand, help users make, edit, and share spreadsheets online, in real time and make data-driven decisions from any device. 
There are many reasons for integrating Google Sheets with HubSpot, like automatically adding all contacts and other related information from Google Sheets into Hubspot CRM, making it easier to automate and customize HubSpot Reporting for your organization, populating Google Sheets with HubSpot data, and many more.
Want to automate the sending of HubSpot object data to new or existing Google Sheets rows in just a few clicks, with no code? Cloud Analogy, one of the leading Salesforce integration partners, can guide you on Google Sheets integration with HubSpot to elevate your business growth. We assure you with world-class Salesforce integration services, transforming your business and growing your revenue like never before. Reach out to the Cloud Analogy team and start your project today.