As firms implement more systems and consumers want access to everything from everywhere, managing integrations between systems are becoming increasingly crucial. According to recent stats, most business teams agree that employees wish to easily access data to complete projects more quickly, especially as the number of new digital projects grows. While there is a significant need for connected data, more than a third of corporate users say that Salesforce integration is the most challenging aspect of offering new digital services.
You may connect your systems and data with your users using Salesforce's declarative tools to help them be more productive. And, in this regard, Salesforce allows you to go one step further with MuleSoft Composer, enabling you to break down existing data silos and connect more data.
What Is Mulesoft Composer For Salesforce?
MuleSoft Composer for Salesforce, based on the Anypoint Platform, allows Salesforce administrators to break down data and silos and to Salesforce and automate integrations with a few clicks rather than coding. MuleSoft Anypoint Platform is a unified API and integration platform that allows companies to access data across applications and offer connected experiences. And you can accomplish all of this from inside Salesforce, where you already work.
MuleSoft Composer makes it simple to automate standard system connectors directly from Salesforce. It also gives your business teams the ability to create a 360-degree perspective of your customers. Above all, you can efficiently deliver linked experiences at a faster rate with this innovation.
What Can You Do With Mulesoft Composer For Salesforce?
Empowers Non-Developers
Admins and other staff in many organizations rely on developers or IT resources to complete requests for modification or innovation within Salesforce. MuleSoft Composer helps to overcome this limitation by allowing non-developers to create and integrate directly in Salesforce. In addition, one does not need to learn a new system because the integration tool is already integrated into the admin console. As a result, both teams can collaborate to develop more effectively and swiftly, allowing them to complete high-priority projects more quickly and efficiently.
Clicks Rather Than Codes
MuleSoft Composer makes it simple to integrate apps and data to Salesforce with a guided, click-through experience. No code is necessary; follow the onscreen instructions. Use the library of pre-built connectors and templates to get your project up and running quickly with automated integrations. With accurate data as a preview, you can construct and design while keeping an eye on issues with automatic alerts.
How To Utilize Mulesoft Composer Connectors?
The catalog of connectors to Salesforce, Workday, and NetSuite is MuleSoft Composer's secret sauce. Prebuilt connectors and templates help you get started quickly by developing integrations and generating a single view of your customer. In addition, the connectors present in Mulesoft Composer help connect the applications seamlessly to the applications so that the sales operations process, team collaboration, employee experience can be streamlined, fostered, and enhanced with automation.
Below mentioned are some of the connectors, which are available in Mulesoft Composer from March 2021.
NetSuite: Between NetSuite and Salesforce, the NetSuite Connector synchronizes data and automates business processes. A cloud-based business management software, NetSuite assists businesses with key business activities, ERP financials, CRM, eCommerce, inventory, and more.
Workday: The Workday Connector gives you access to standard Workday functions. Workday is a Software-as-a-Service (SaaS) solution for human capital management, including human resources, staffing, recruiting, and performance management.
Tableau: You can see all of your connected business data in one location that too in real-time with the Tableau Connector. Tableau is a business and analytics tool that helps people understand databases and spreadsheets.
Google Sheet: The Google Spreadsheets Connector connects you to the Google Spreadsheets API in real-time, allowing you to access, create, and edit Google Sheets.
Slack: You can use the Slack Connector to connect to the Slack platform. This connection supports three Slack API actions:
Looking for user information via email
Sending a direct message
Posting a message on a channel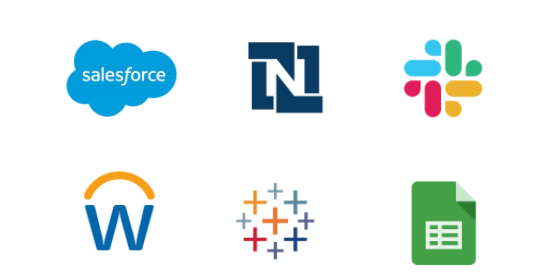 Benefits Of Mulesoft Composer For Salesforce
Streamlines Your Sales Process
Connectors for CRM, ERP, and other systems can synchronize data and streamline quote-to-cash procedures. Connect Google Sheets to Salesforce, for example, to import data and eliminate human data entry errors. With a NetSuite > Salesforce link, you can automate inventory management, general ledger management, and order-to-cash procedures. Moreover, admins will be able to streamline their order-to-cash processes as a result of this. It will also boost sales productivity across the board. Above all, the Tableau connector will provide your team with a particular form of data.
Enhances Team Collaboration
Mulesoft Composer for Salesforce enables your teams to share files and data across all of their locations. They can also connect their Sales Cloud data to Slack or Google Sheets. Using Slack Connector, automate updates and team notifications to kick-start downstream operations. When you link Slack, Gmail, and Tableau with Salesforce, you can bring your marketing, sales, finance, and service teams together. Share Salesforce reporting data immediately in Slack or visualize it in Tableau, for example, so that teams can collaborate and respond in real-time.
Boosts Employee Experience
Using technologies such as NetSuite, Workday, and Salesforce, businesses may now automate their payroll processes and update employee profiles with the help of Mulesoft Composer. Workday Connector helps you automate staff onboarding and development duties, among other things. When you link Workday, Gmail, and Slack, you can automate resource provisioning, speed new hire orientation, and improve employee development.
Conclusion
MuleSoft Composer for Salesforce allows Salesforce partners to extend their integration capabilities without leaving the platform. MuleSoft Composer will enable partners to rapidly and easily automate their clients' integrations using clicks rather than code, all from within the Salesforce UI. Furthermore, MuleSoft Composer also provides a seamless Salesforce release management process and gives partners an easy-to-use platform that speeds up project time to value and provides a solution that clients can self-sustain over time.
Want to sync data better and allow the seamless flow of data among different systems and applications within your business? Connect with the Cloud Analogy team of experts and leverage end-to-end comprehensive Mulesoft development services to transform your business in countless ways.